Packing an Everyday Lunchbox
Packing an everyday lunchbox does not have to contain complicated or expensive ingredients. Follow the guide below to make packing an everyday lunchbox quick and easy:
Veg & Fruit Break:
Vegetables or fruit
Recess:
Vegetables or fruit + 1-2 everyday snacks
Lunch:
A meal made with everyday foods, such as a sandwich, wrap, salad, pasta or rice dish
Drink:
Water and/or reduced fat plain milk
Don't forget to add an ice brick to keep the food cool and safe or use a good quality thermos for hot foods (if permitted at your school). 
SWAP IT Monday to Friday
See everyday lunchbox examples below to use as a guide and give you inspiration when packing your own everyday lunchbox.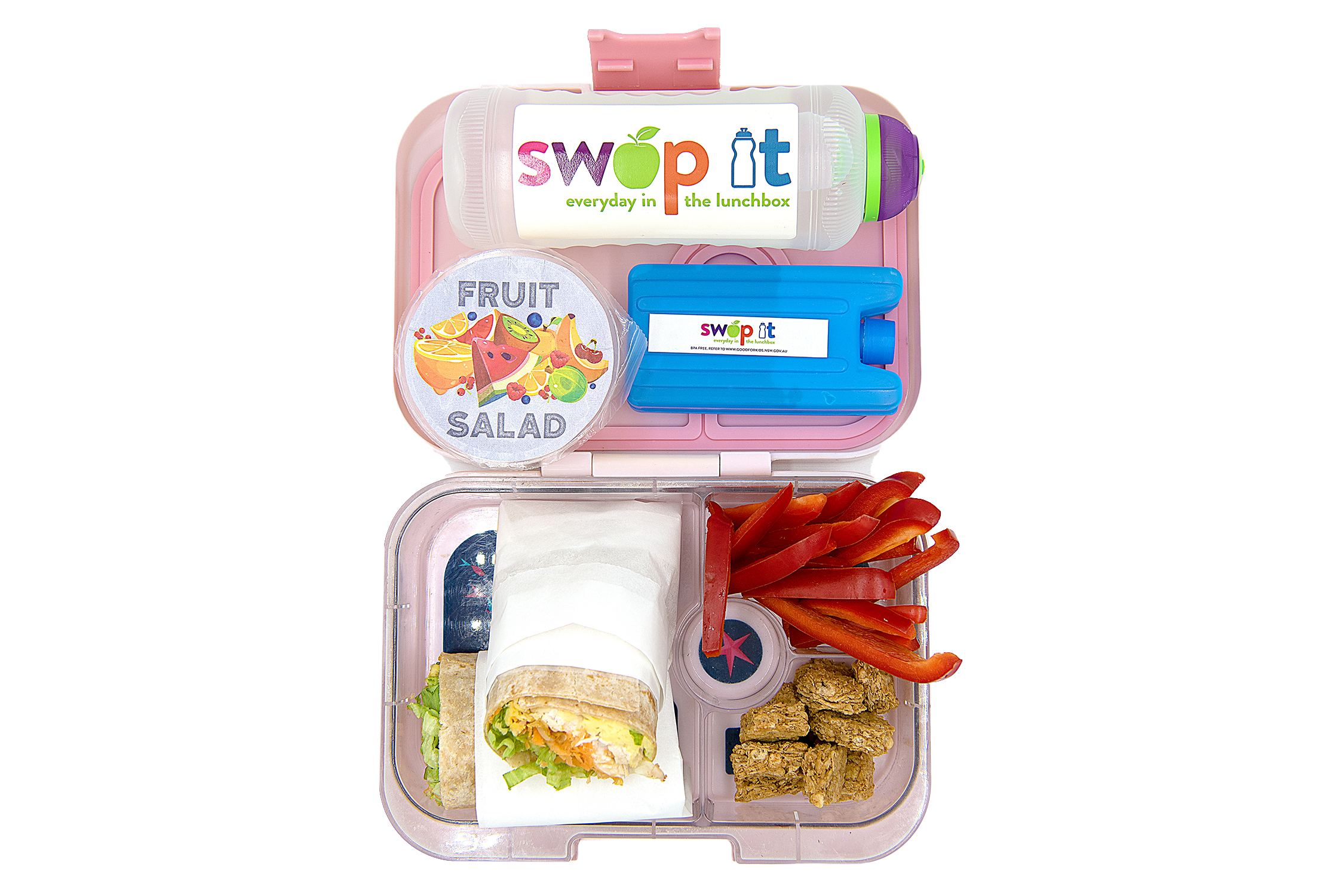 Veg & Fruit Break: Red capsicum sticks
Recess: Wholegrain cereal bites, tinned fruit in natural juice
Lunch: Multigrain wrap with chicken, cheese, carrot and lettuce
Drink: Water
Ice brick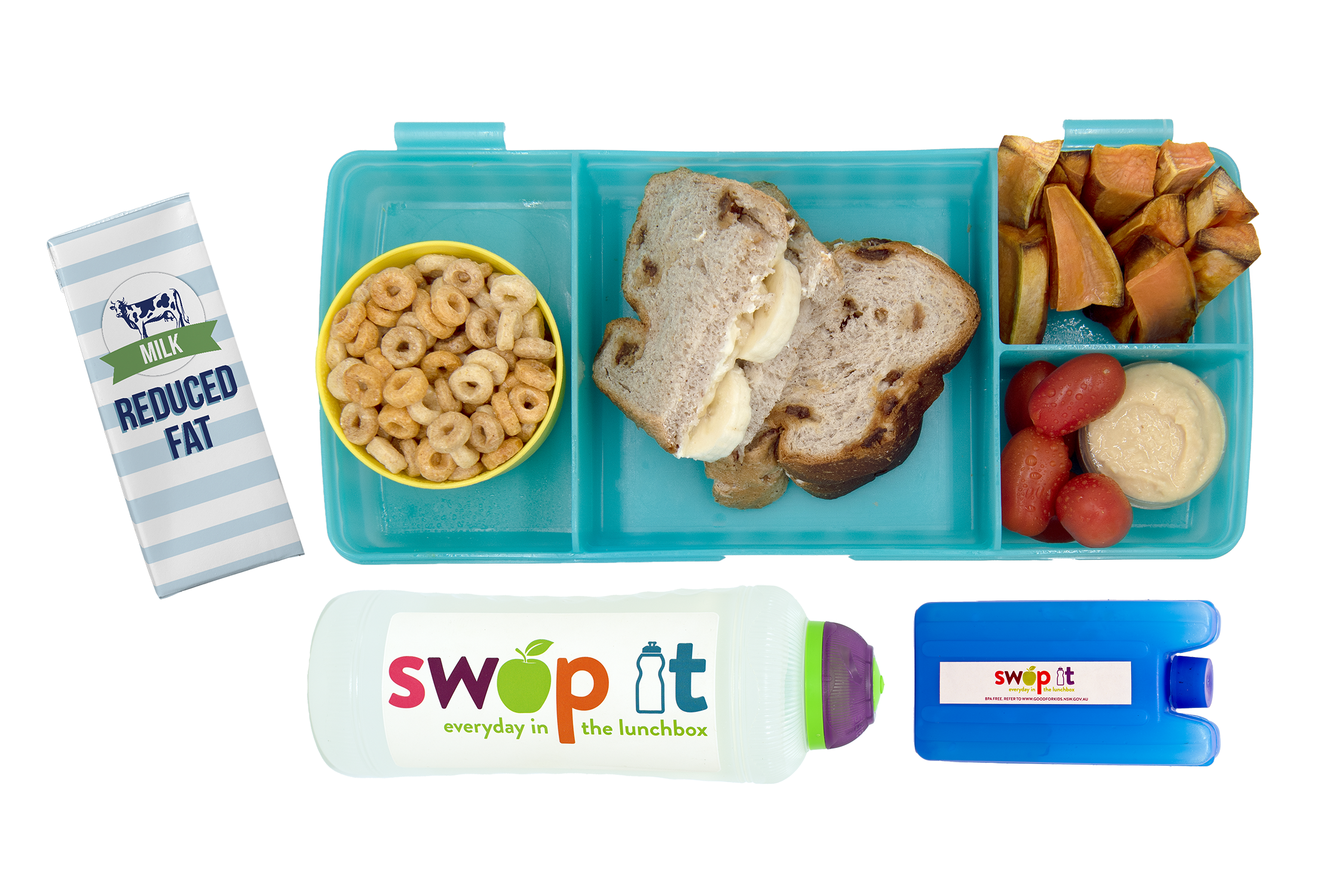 Veg & Fruit Break: Cherry tomatoes
Recess: Roasted sweet potato chunks, hummus, Cheerios 
Lunch: Raisin bread sandwich with banana 
Drink: Water, reduced fat plain milk
Ice brick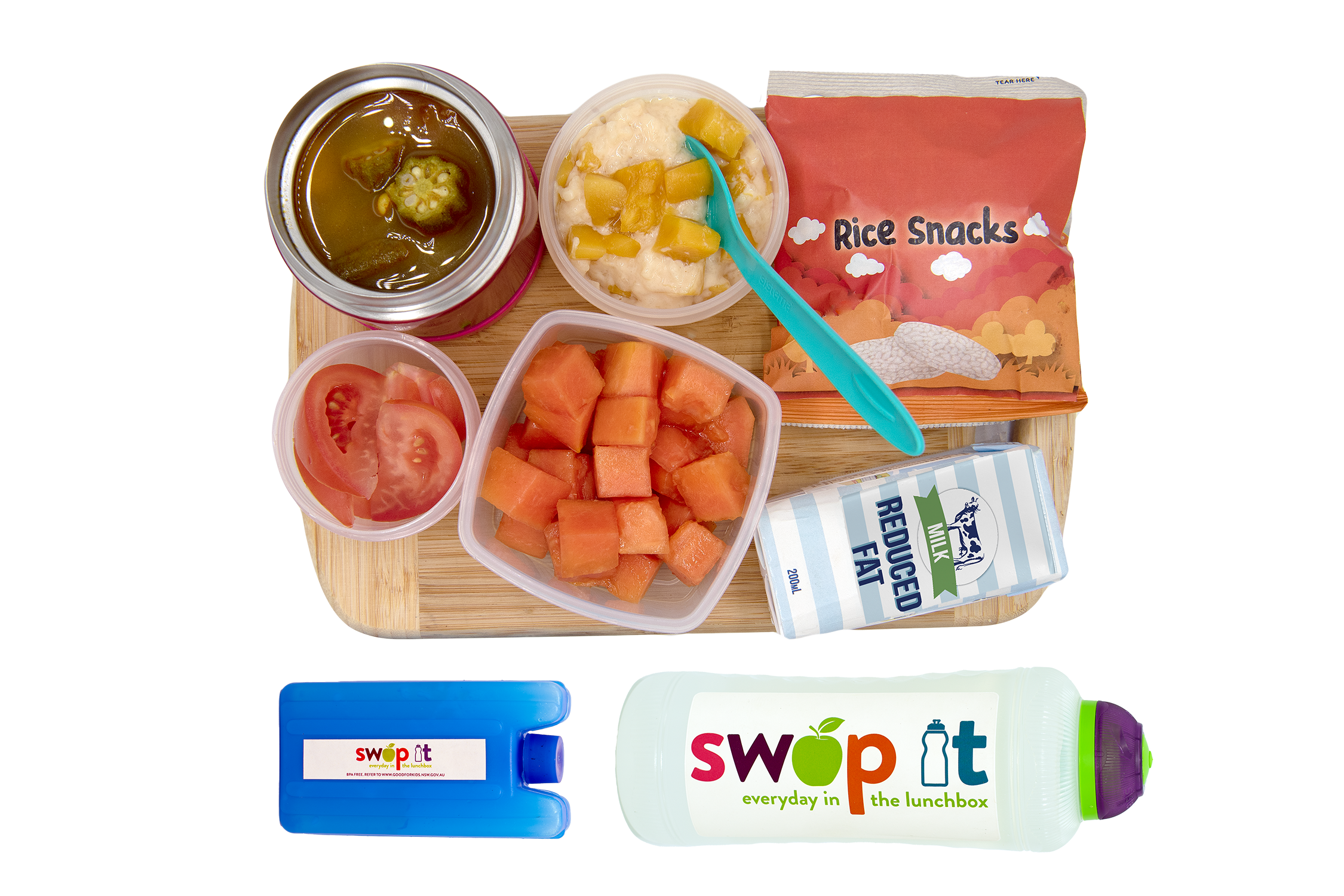 Veg & Fruit Break: Tomato chunks, papaya  
Recess:Rice pudding with mango and rice crackers
Lunch: Chicken drumstick Sambar  
Drink: Water, reduced fat plain milk
Ice brick, thermos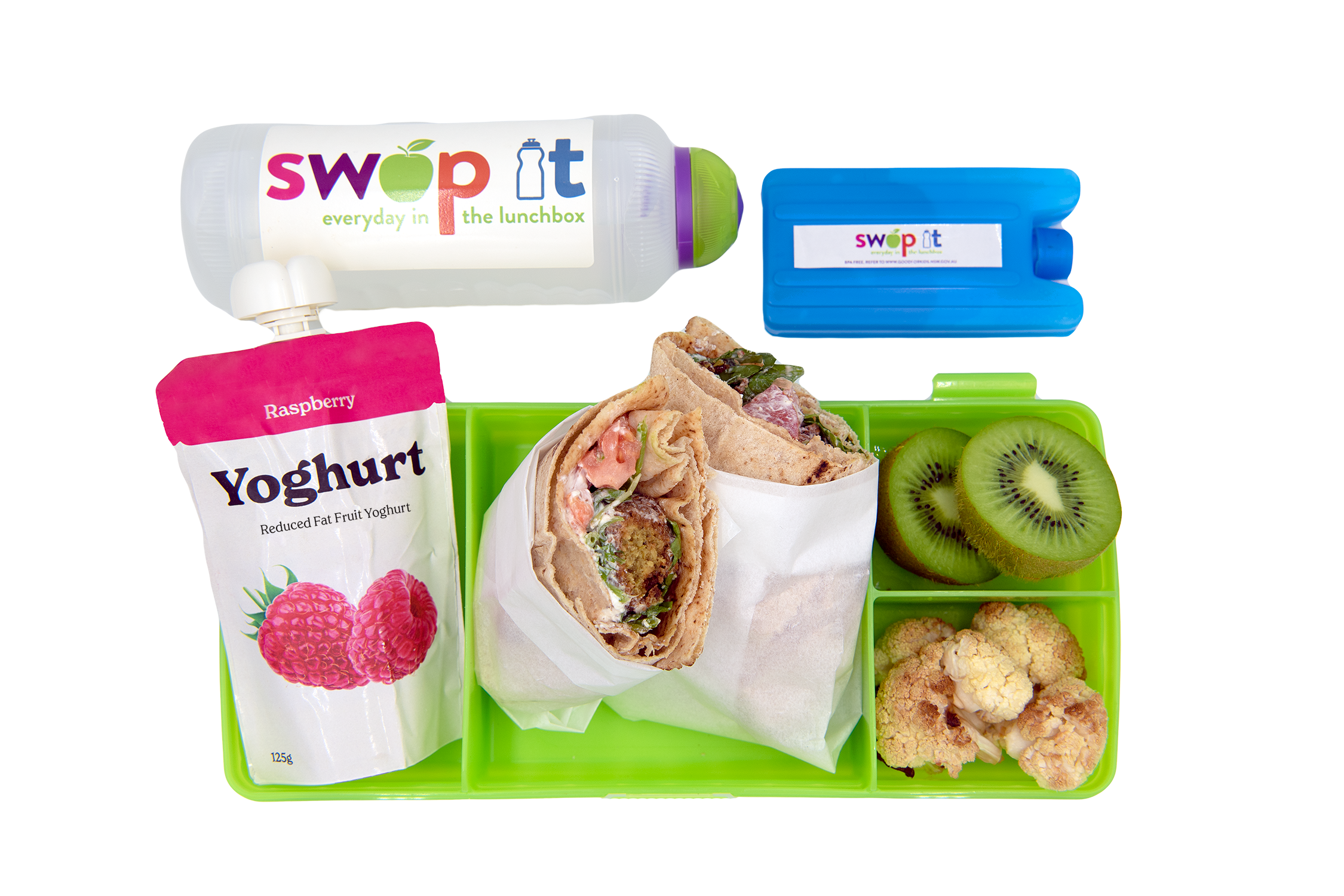 Veg & Fruit Break: Roasted cauliflower 
Recess: Kiwi fruit, reduced fat fruit yoghurt 
Lunch: Wholemeal wrap with falafel, labneh, baby spinach and tomato 
Drink: Water
Ice brick
Veg & Fruit Break: Apple
Recess: Sugar snap peas, baked beans 
Lunch: Wholemeal sandwich with chicken, lettuce and avocado 
Drink: Water, reduced fat plain milk 
Ice brick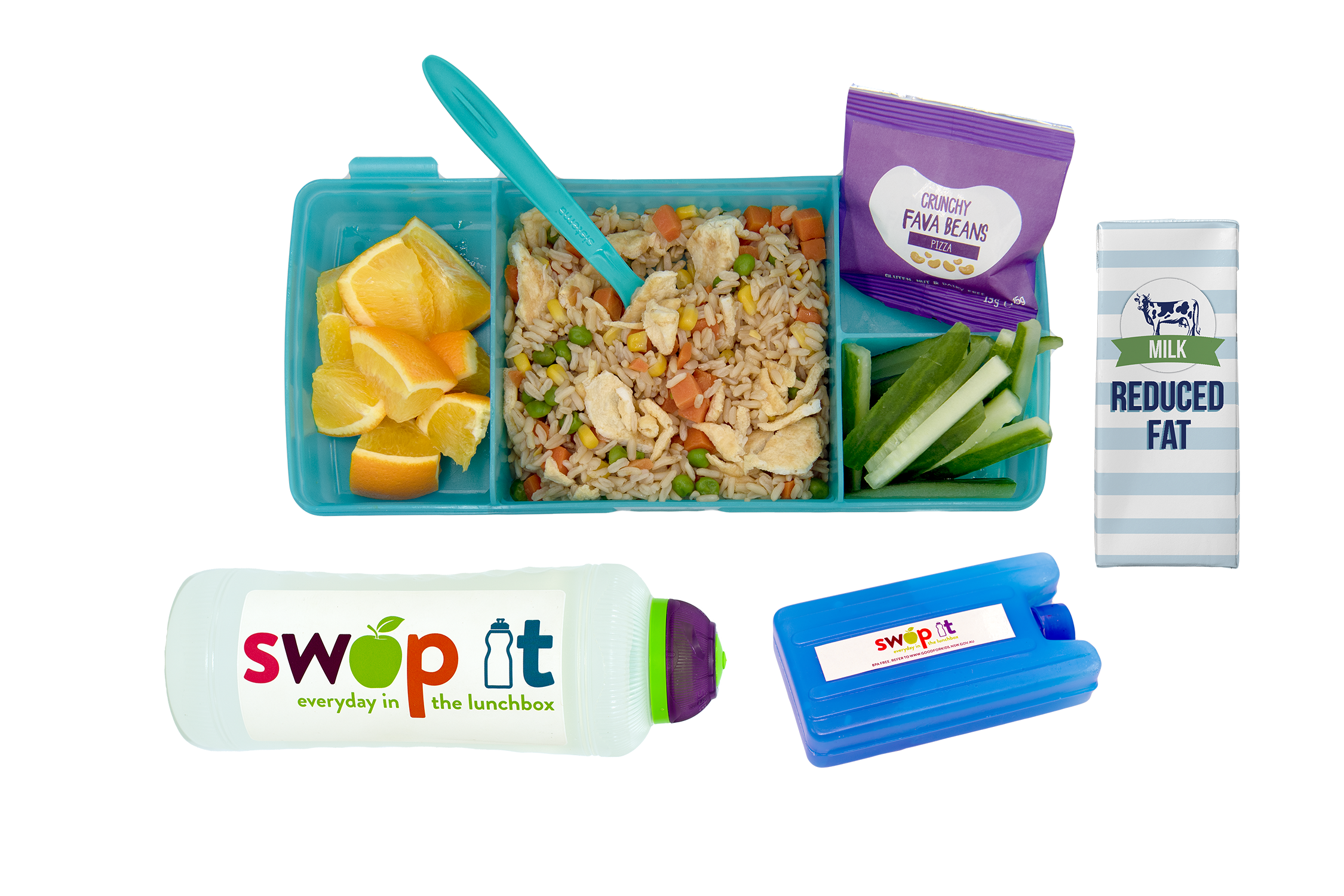 Veg & Fruit Break: Cucumber sticks 
Recess: Roasted fava beans, orange chunks
Lunch: Vegetable fried rice with egg 
Drink: Water, reduced fat plain milk 
Ice brick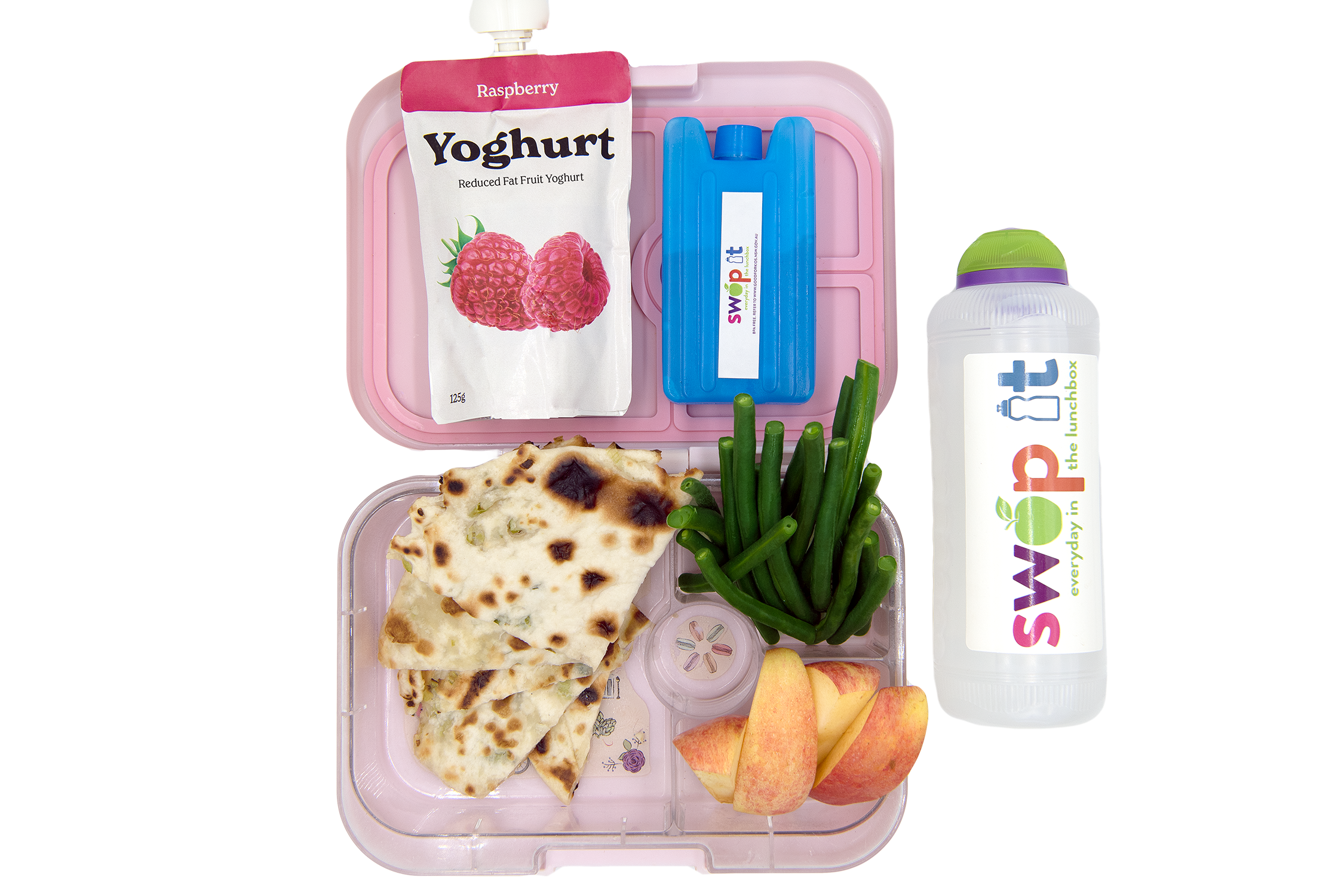 Veg & Fruit Break: Green beans
Recess: Sliced apple, reduced fat fruit yoghurt 
Lunch: Spring onion pancakes 
Drink: Water
Ice brick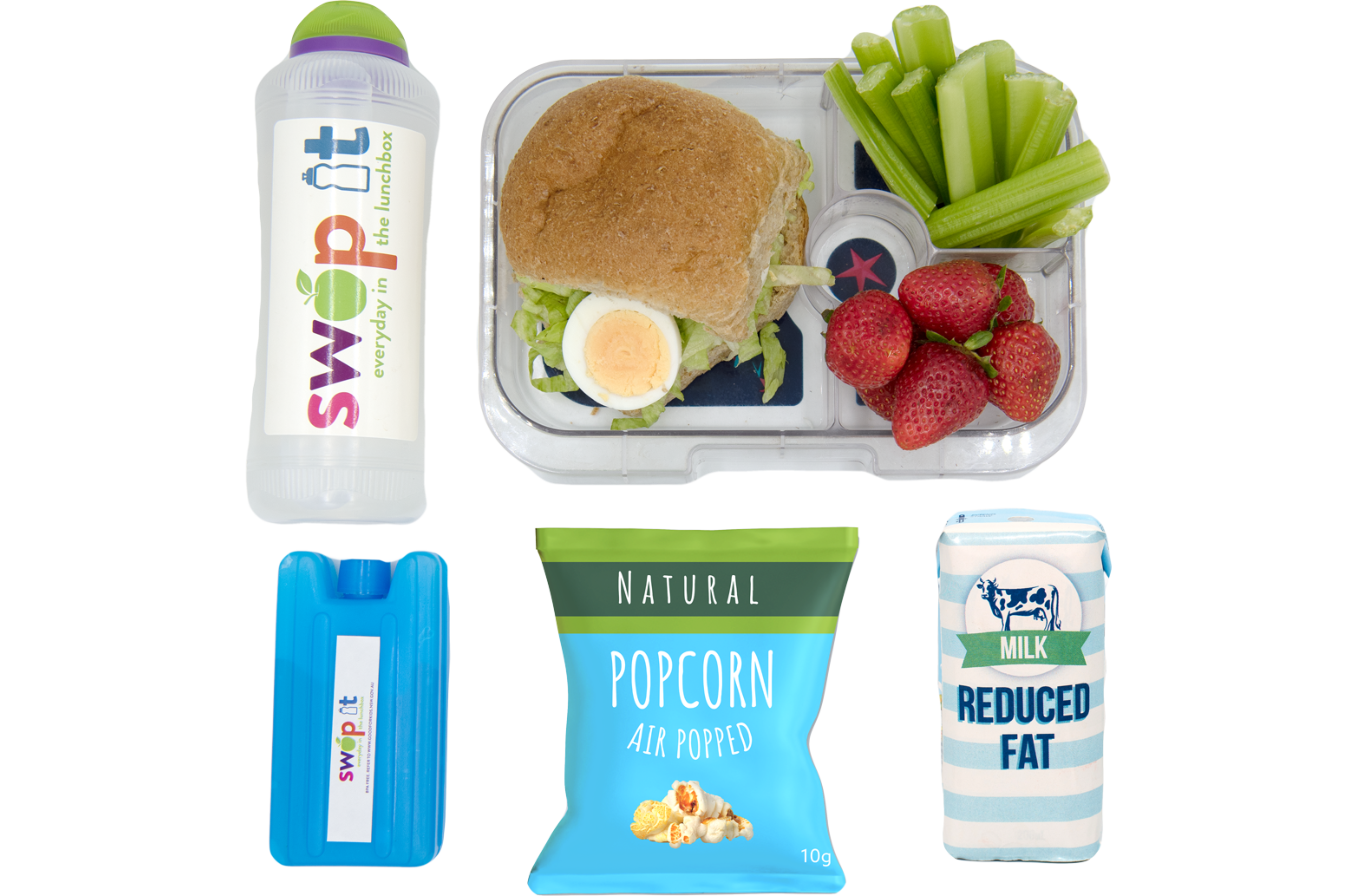 Veg & Fruit Break: Celery sticks 
Recess:Plain air-popped popcorn, strawberries
Lunch: Wholemeal roll with egg and lettuce 
Drink: Water, reduced fat plain milk 
Ice brick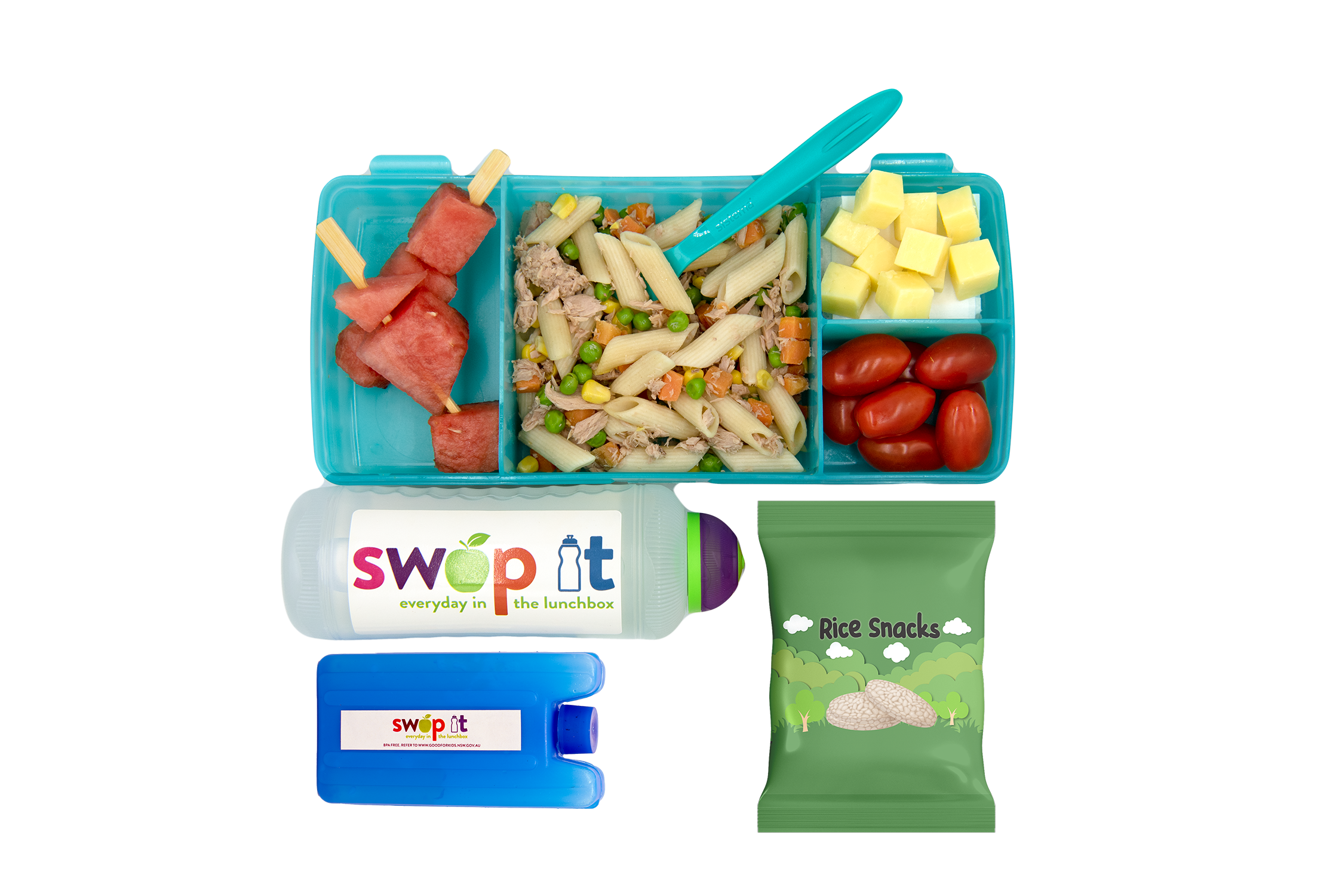 Veg & Fruit Break: Watermelon skewers 
Recess:Cherry tomatoes, cheese cubes, rice crackers
Lunch: Tuna and vegetable pasta salad 
Drink: Water
Ice brick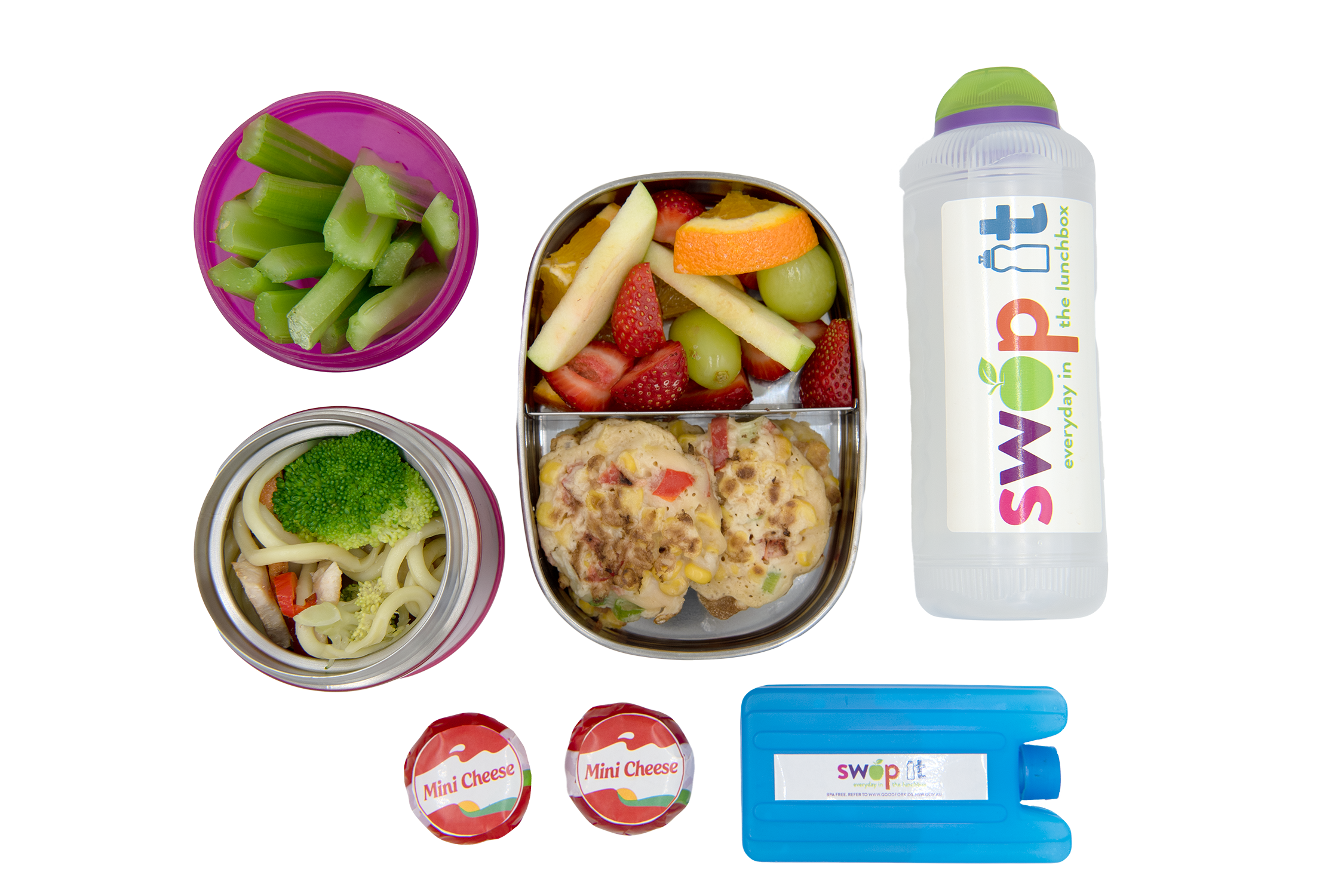 Veg & Fruit Break: Fruit salad
Recess: Celery sticks, corn fritters, mini cheese snacks
Lunch: Noodle stir-fry with chicken and vegetables
Drink: Water
Ice brick, thermos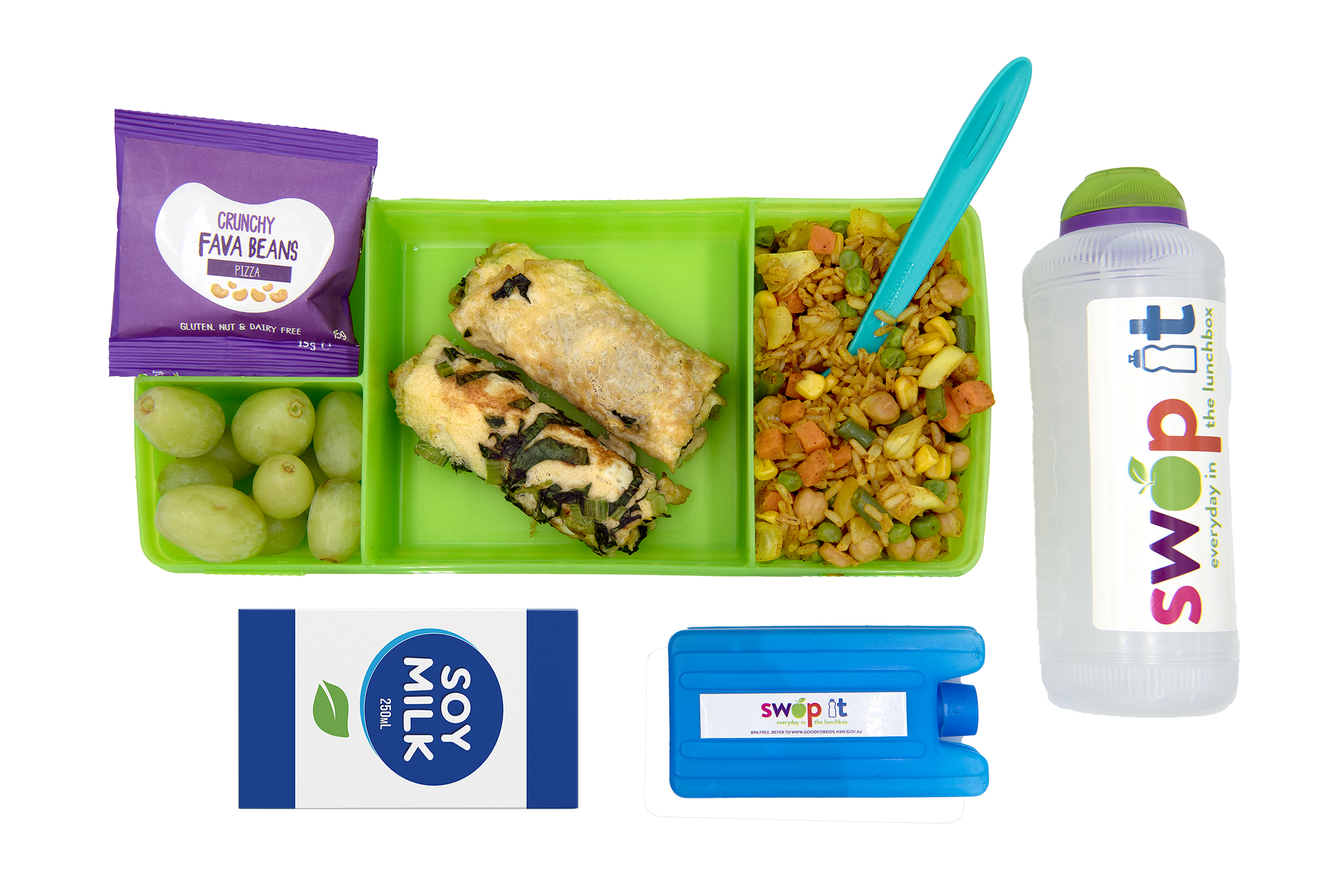 Veg & Fruit Break: Grapes
Recess: Omelette roll with egg and green leafy vegetables, roasted fava beans
Lunch: Indian curried fried rice with chickpeas
Drink: Water, soy milk 
Ice brick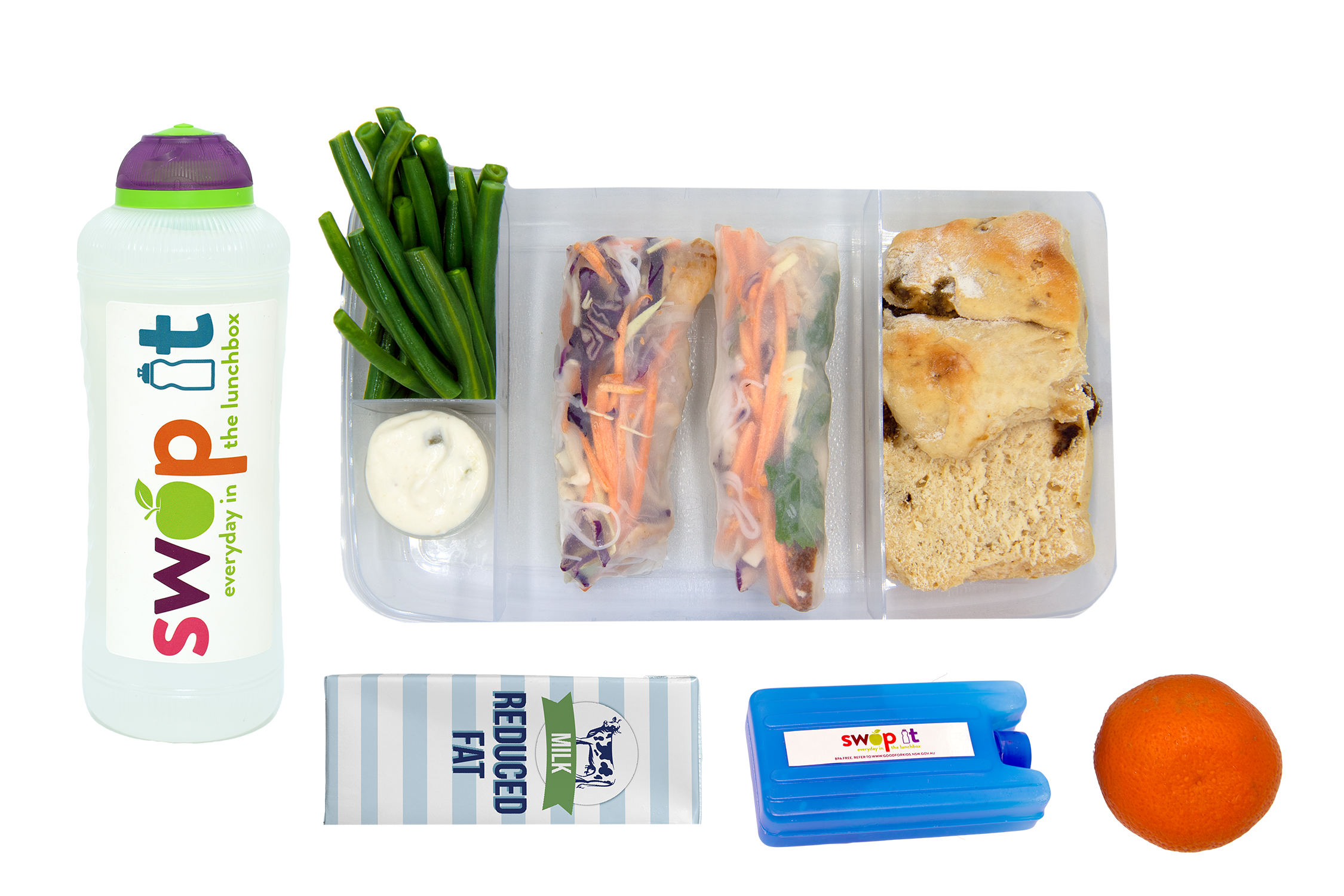 Veg & Fruit Break: Mandarin
Recess: Fruit scone, green beans with tzatziki 
Lunch: Chicken and vegetable rice paper rolls
Drink: Water, reduced fat plain milk  
Ice brick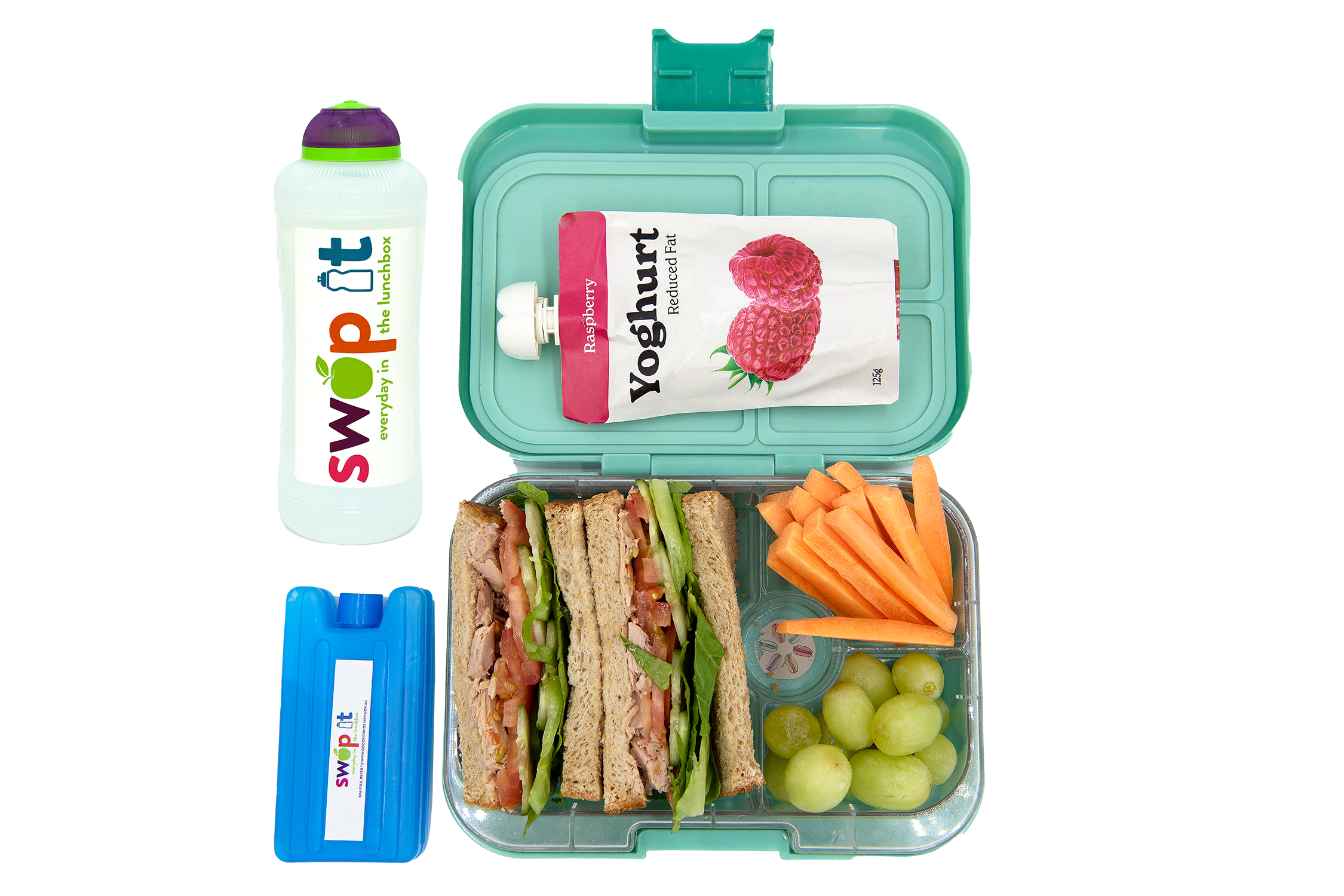 Veg & Fruit Break: Carrot sticks  
Recess: Reduced fat fruit yoghurt, grapes
Lunch: Wholemeal sandwich with tuna, tomato and lettuce  
Drink: Water
Ice brick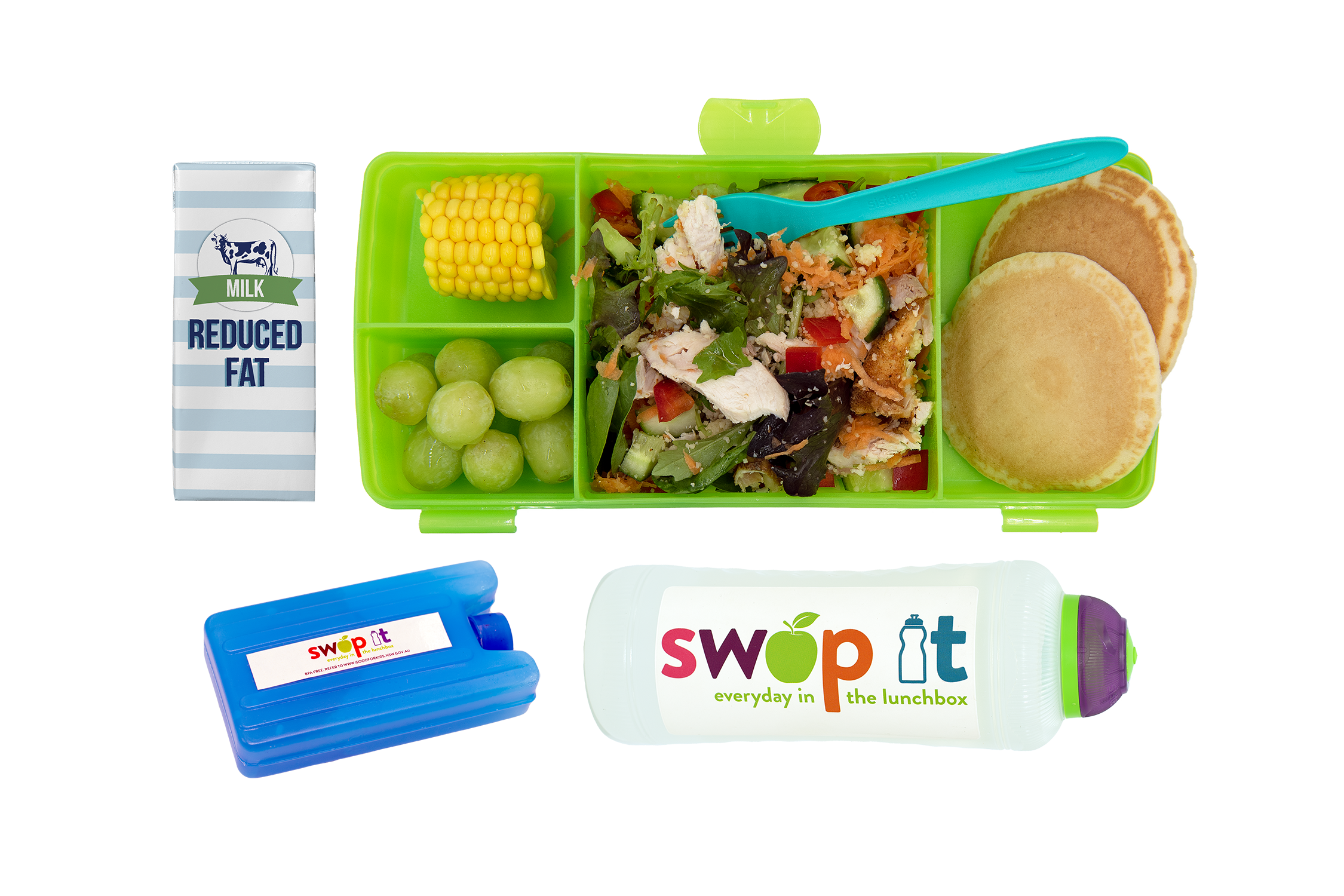 Veg & Fruit Break: Grapes
Recess: Pikelets, corn on the cob 
Lunch: Mixed vegetable and chicken salad with cous cous 
Drink: Water, reduced fat plain milk 
Ice brick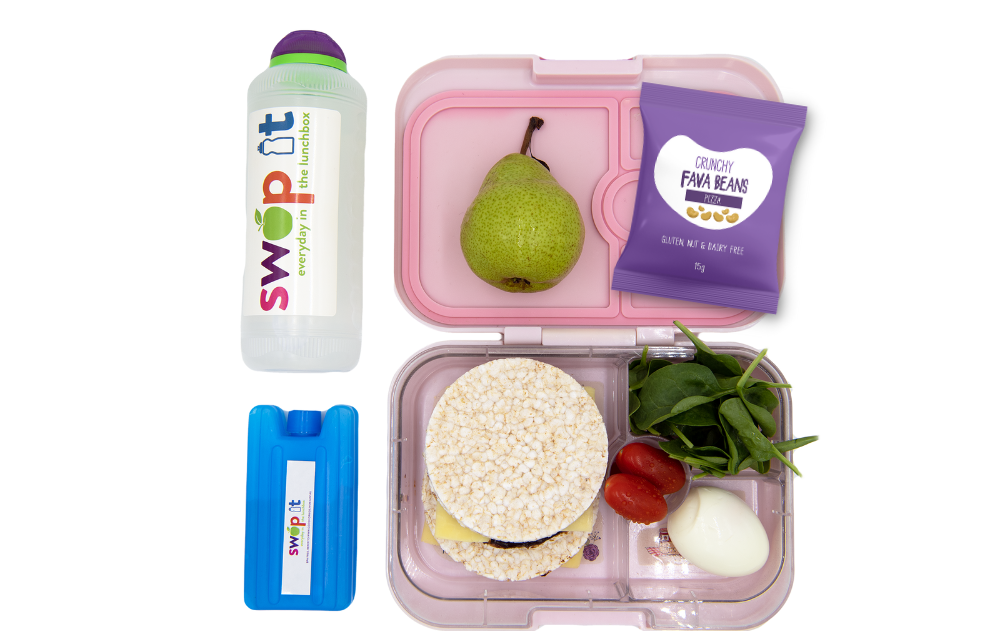 Veg & Fruit Break: Pear, cherry tomatoes 
Recess: Boiled egg, baby spinach, roasted fava beans 
Lunch: Rice cakes with vegemite and cheese 
Drink: Water
Ice brick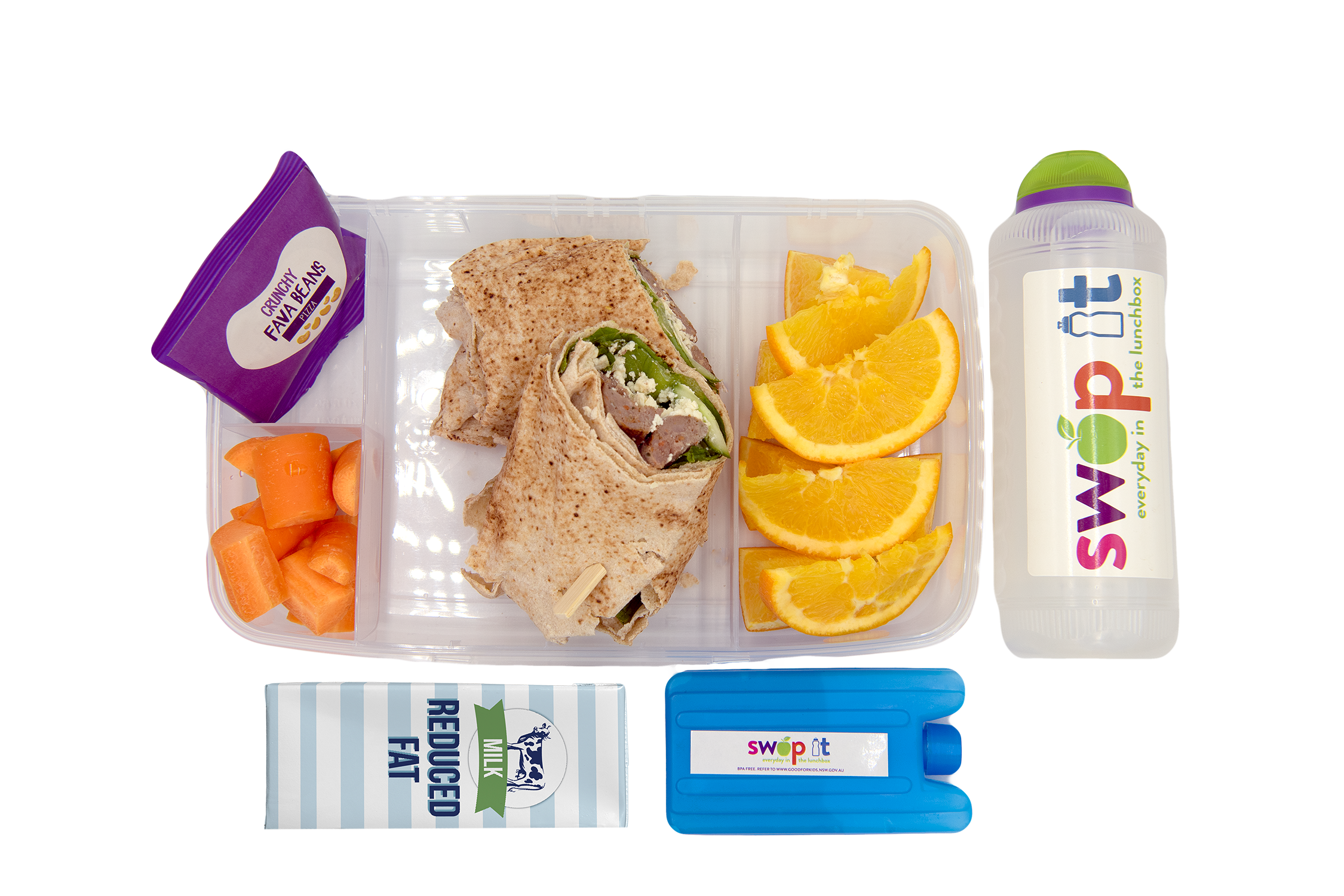 Veg & Fruit Break: Carrot chunks 
Recess: Roasted fava beans, orange slices
Lunch: Wholemeal Lebanese wrap with feta cheese, cucumber, lettuce and lamb kofta
Drink: Water, reduced fat plain milk 
Ice brick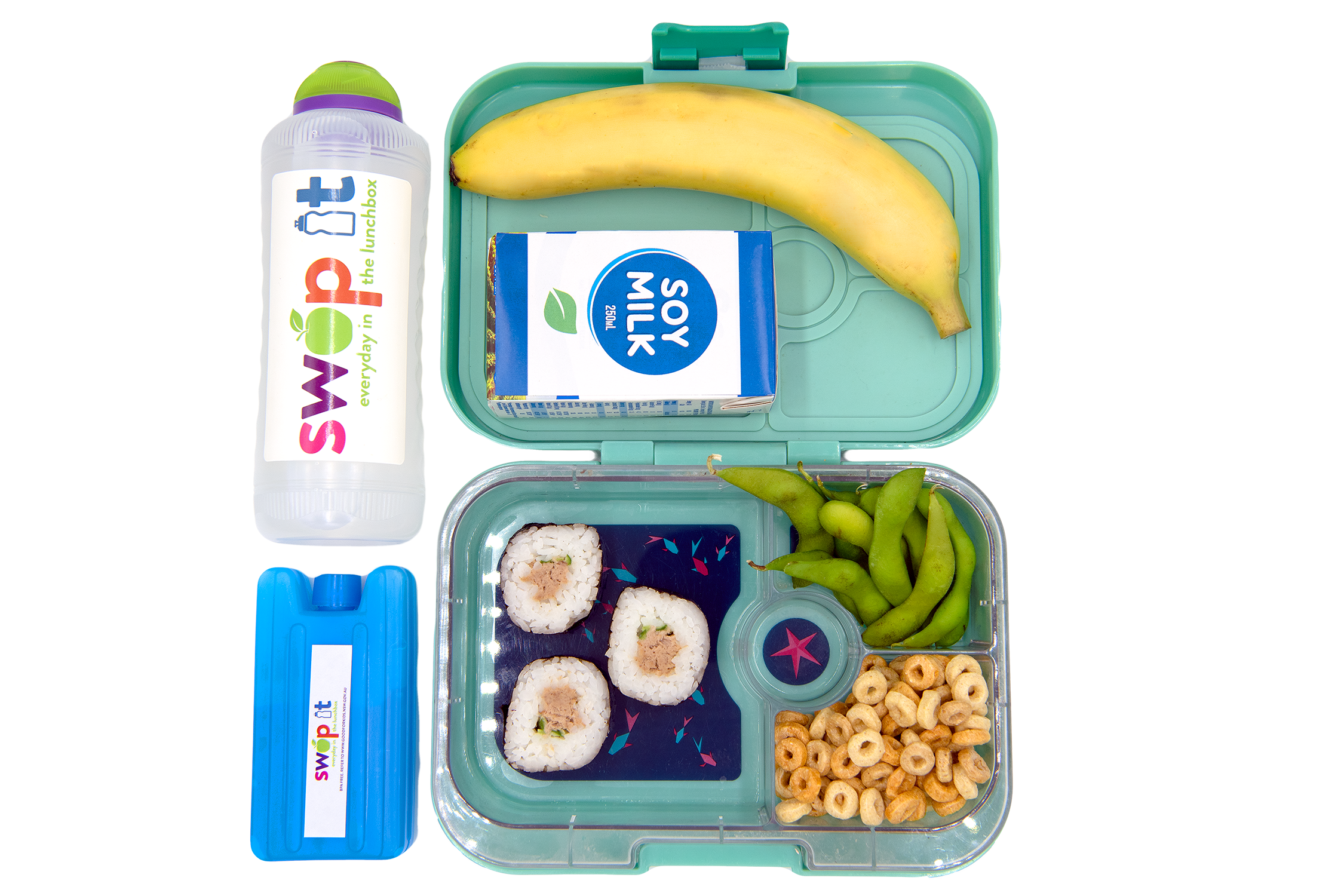 Veg & Fruit Break: Edamame beans 
Recess: Cheerios, banana 
Lunch: Sushi with tuna, avocado and cucumber 
Drink: Water, soy milk 
Ice brick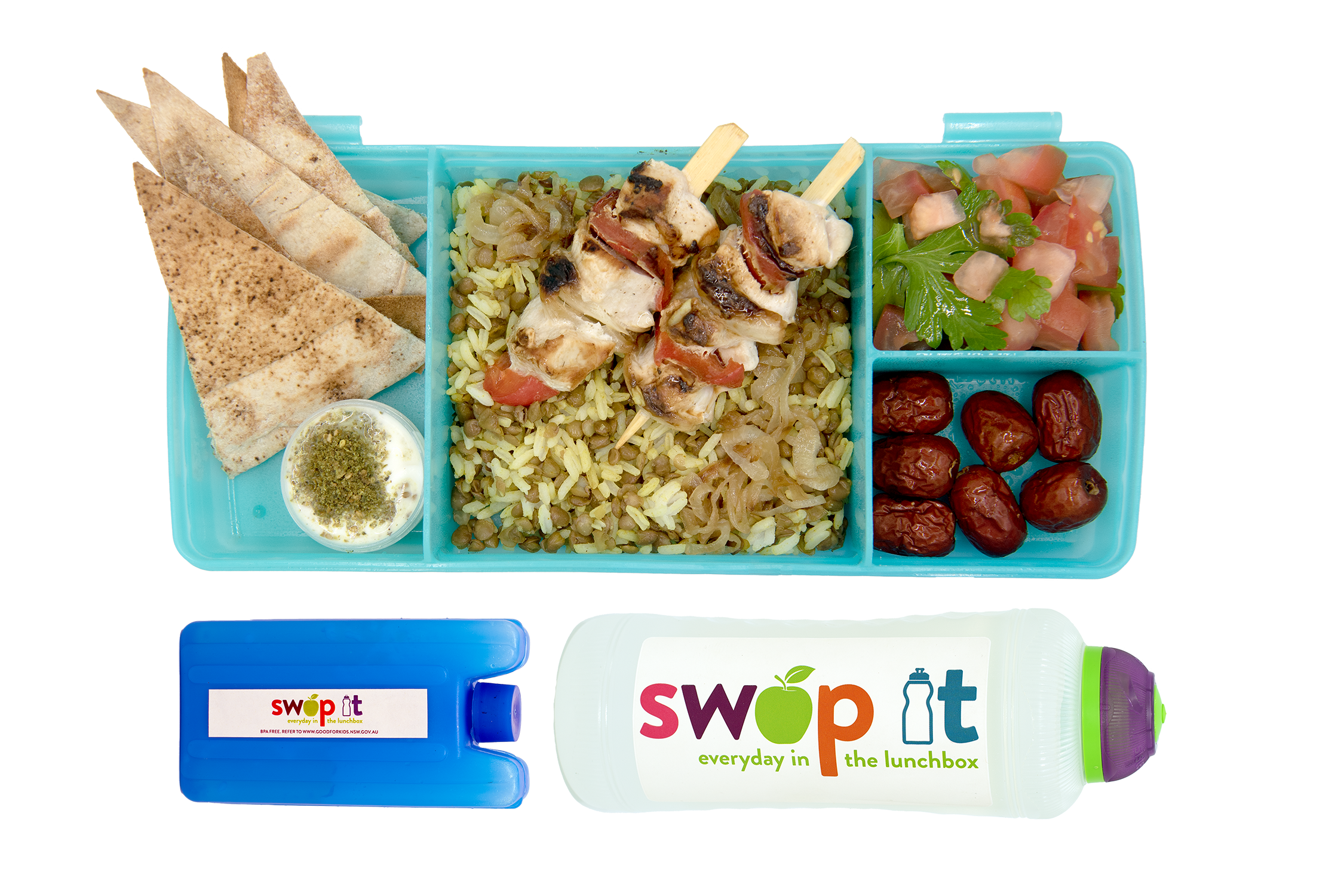 Veg & Fruit Break: Tomato salad 
Recess: Wholemeal Lebanese bread, ricotta cheese with zaatar seasoning, red dates
Lunch: Chicken kebobs and mujadara (brown lentils and rice) 
Drink: Water
Ice brick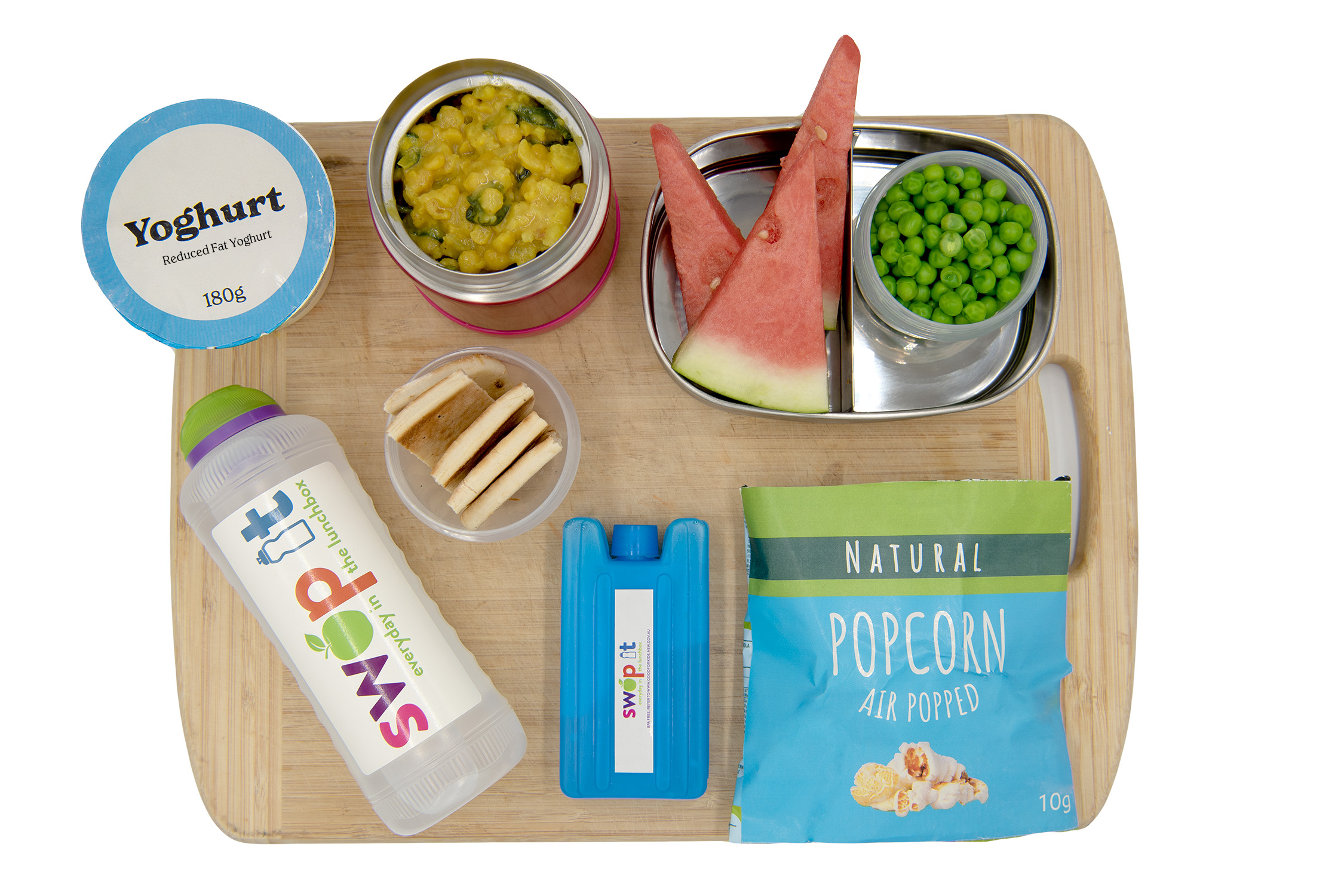 Veg & Fruit Break: Watermelon, green peas 
Recess: Reduced fat plain yoghurt, air-popped popcorn 
Lunch: Cauliflower and spinach dahl with naan bread
Drink: Water
Ice brick, thermos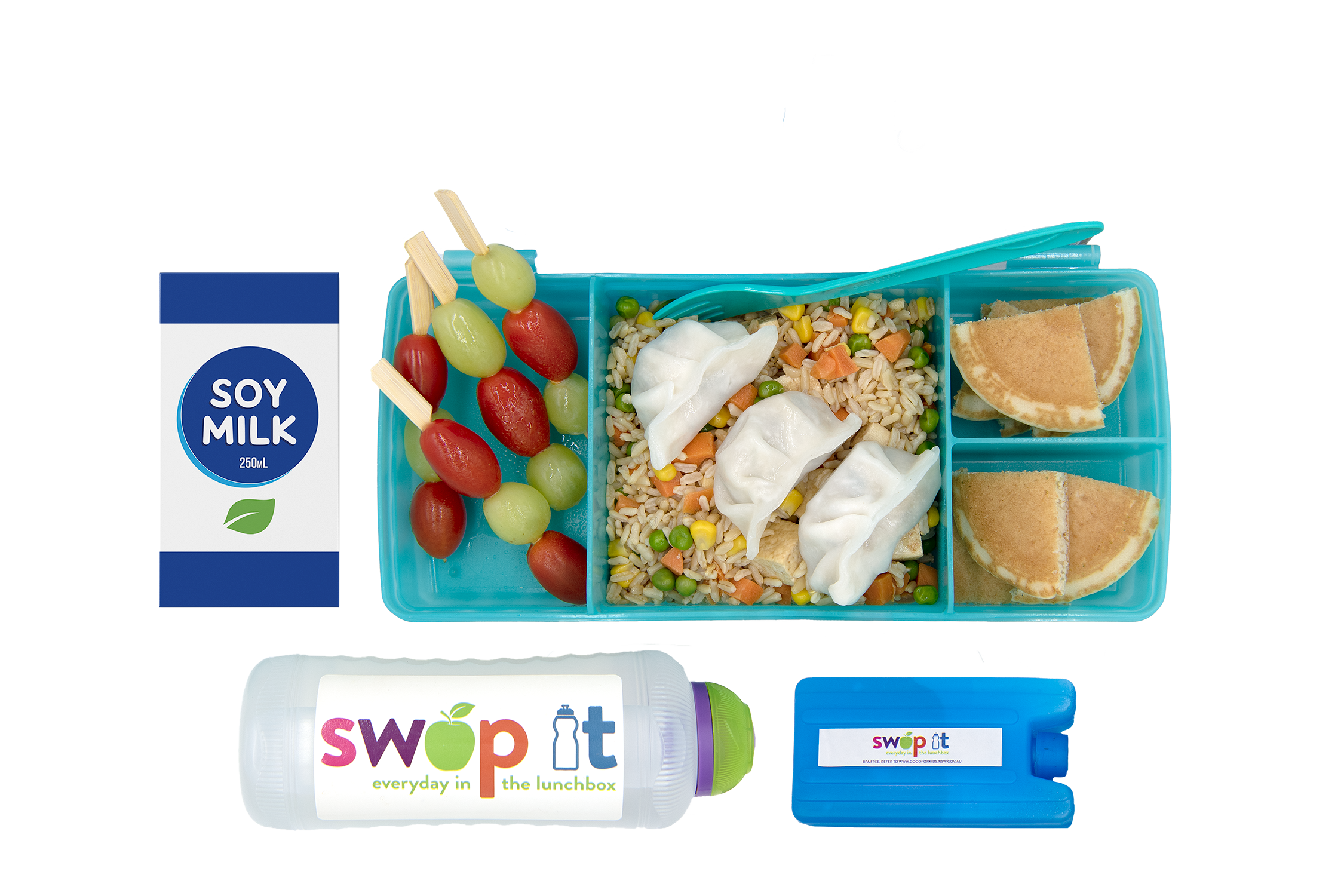 Veg & Fruit Break: Mixed vegetable and fruit skewers
Recess:Pikelets
Lunch: Steamed vegetable dumplings with egg and vegetable fried rice
Drink: Water, soy milk 
Ice brick